Article
SERVICE IMPORTS AND EXPORTS | KEY INDICATORS - AUGUST 2023
In August, Canada's trade in services deficit experienced an increase, rising from $1.2 billion in July to $1.5 billion. A detailed analysis reveals that service imports went up by 0.7%, reaching $16.4 billion. In contrast, service exports fell by 0.7%, settling at $15.0 billion.
The surge in imports was led by a rise in payments for transportation services, which grew by 4.9%. Specifically, imports of marine transportation services rebounded in August, following the significant declines recorded in July. These declines were linked to the strike at the British Columbia port and its impact on the imports of goods. However, this growth was partly offset by a decline in imports of commercial services, which decreased by 0.6%, primarily in financial services.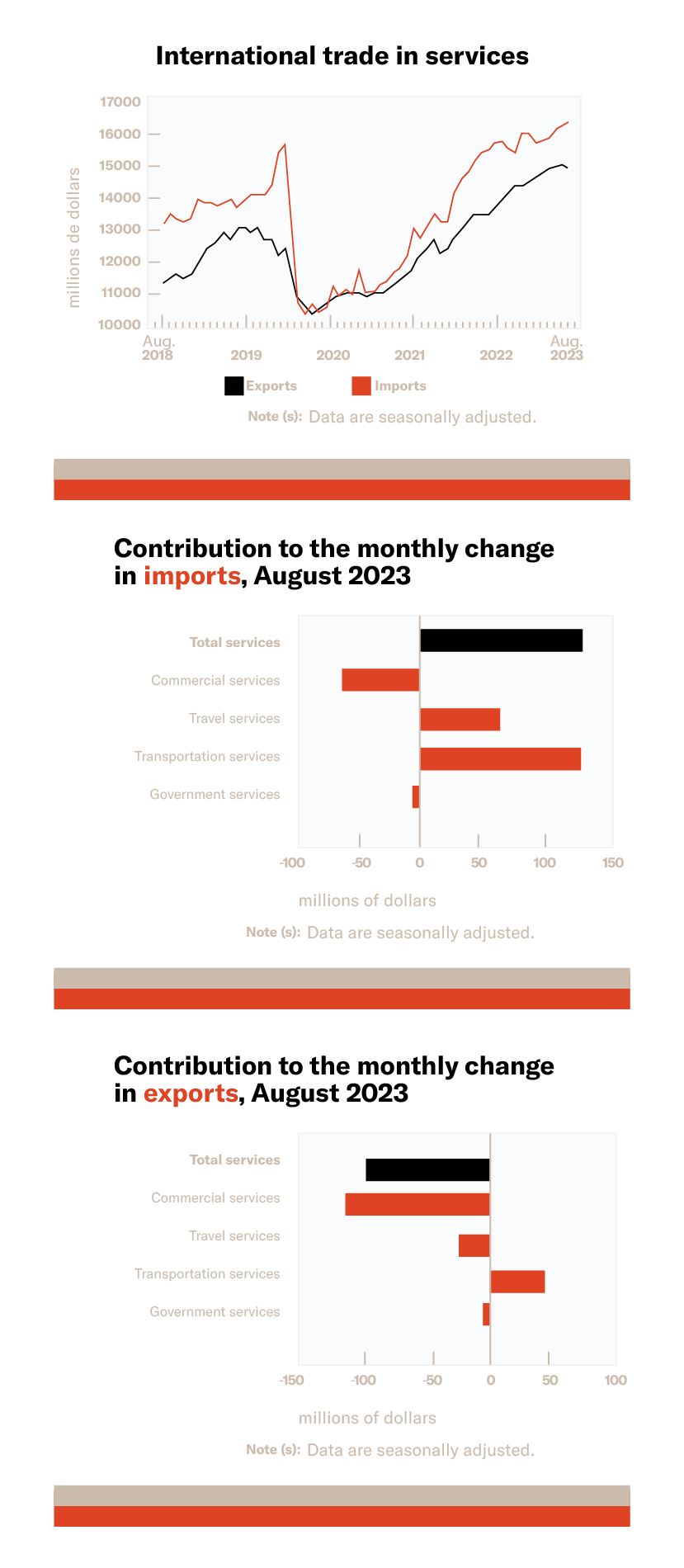 On the other hand, the decrease in exports was mainly attributed to a drop in revenues from commercial services, recording a fall of 1.1%. Also, the exports of travel services experienced a decline of 0.7%. Nevertheless, there was a rise in exports of transportation services, with an increase of 2.8%.
For those interested in an interactive visualization of the most recent results on Canada's international trade in services, they can refer to the International Trade Monthly Interactive Dashboard.
In the realm of goods, total exports increased by 5.7% compared to July, reaching $64.6 billion in August. On the other hand, total imports of goods rose by 3.8%, reaching $63.8 billion. This resulted in a surplus of $0.7 billion in August. When combining data for goods and services, the trade balance presented a deficit of $0.7 billion in August, compared to a deficit of $1.7 billion in July.
It's important to mention that the services trade deficit for July, which was initially reported at $1.4 billion in the previous report, was revised downward to $1.2 billion in this latest release. This is due to exports being revised upward by $40 million and imports being revised downward by $126 million.
This article provides an analysis of the recent movements in Canada's international trade in services and goods. The information is based on data provided by the Statistics Canada website.