Article
Logistics in 2022 | HIGHLIGHTS OF THE YEAR
The supply chain is the cornerstone of our entire economy, the very foundation of globalization itself. Our logistics must constantly evolve to adapt to the increasing complexity of international trade, and must remain flexible to stay competitive in this ever-changing and fragile global environment.
 
Unsurprisingly, the pandemic was one of the major global issues we experienced this year, and despite the many challenges it generated, it left us with at least one positive effect: it brought forward our industry to the forefront, and showcased its importance and influence on our daily activities.
 
Who among you has ever had to explain to your friends and family what your job is, or the industry you work in?
 
Freight transport has never made the headlines as much as it has in the last few years. This spotlight allowed us to notice the supply chain's shortcomings and to realize that this powerful process is, in reality, only as strong as its weakest link, and that its logistics depend on many factors, including geopolitical, climatic and environmental events.
 
2022 was an eventful year; here are the highlights.
HIGHLIGHTS OF THE YEAR
Over the Road Transport
In January 2022, OTR transport was hit hard by a new rule: double vaccination became mandatory for truckers crossing the border between Canada and the United States. The adoption of this new procedure aggravated an already major issue in the industry, namely the acute shortage of drivers, which was already exacerbated by a decreasing number of young people choosing a career in trucking.
 
On top of that, fuel prices have dramatically increased, exerting an enormous pressure on the trucking industry, which was already strained by the lack of resources available to cross the Canada-U.S. border following the new vaccination requirements.
 
Together, the sky-high fuel prices and the lack of labour force created a bottleneck, aggravating the volume of goods stuck at the border, and significantly slowing down supply logistics across the Canadian and United States border.

Articles:
---
---
Air Transport
After a further downturn in air freight transport in 2020, air service has finally picked up again. International connections between Canada and the rest of the world are back in operation, but as it's the case with the trucking industry, the lack of workforce in airports is critical.
 
Furthermore, even if the industry is picking up again, global air freight capacity is still low compared to pre-pandemic levels. That being said, China ended up relaxing its anti-COVID measures, making it easier for airlines to introduce additional flights on the limited Chinese routes.
 
Despite all of this, November 2022 reported a 10% increase compared to November 2021.
---
Ocean Transport
Import
The overconsumption of Canadian companies has caused import volumes in Canada to surge, clogging up ports and filling up inland warehouses, forcing CP and CN to open additional warehouses to be able to store all imported containers.
 
This abnormally high import volume created another problem: there was no space to store empty containers, as terminals had already reached their maximum storage capacity with full containers.
 
However, as of today, after two years of very high maritime trade costs, especially on goods imported from Asia, we are seeing a return to normal.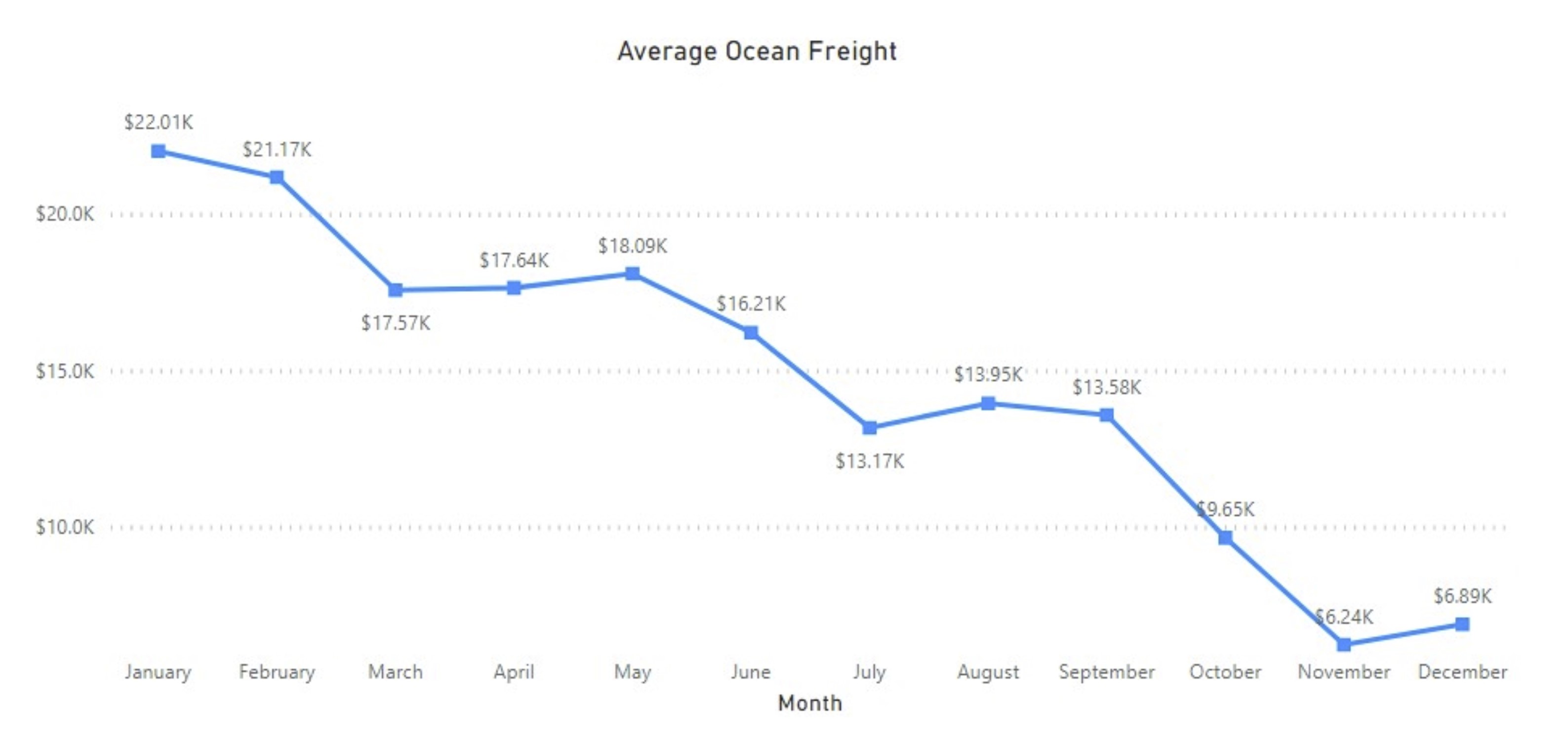 Articles:
Export 
In 2022, Canadian exporters were faced with several issues directly related to the higher import volumes. Indeed, many exporters had difficulty ensuring the delivery of their full containers to the ports of Montreal and Vancouver for the dates previously booked with the shipping lines. Similar issues also affected rail terminals as it was the case in Toronto. Additionally, truckers were faced with waiting times going up to six hours in an already complex context due to labour shortages and Covid-19. Although export shipping prices did not fluctuate as much as import prices, exporters were faced with a significant increase in containers' traction costs.
 
In October, the Canadian Manufacturers & Exporters Association surveyed 563 manufacturers in 17 different industries across the country. The results show that over the course of the year, two thirds of the companies have had to deal with the loss or rejection of new contracts, as well as significant delays in current contracts due to a lack of workers.
 
In conclusion, for Canadian exporters, the challenges were mainly related to a lack of manpower and equipment due to a change in the import strategy, which was previously based on the just-in-time model.
Articles:
---
The War in Ukraine
The war in Ukraine broke out in February 2022 and had an immediate impact on global stock markets, which were already slow to recover.
 
Both Russia and Ukraine are known as breadbaskets of Europe for minerals and agri-food products.
 
Consequently, the sanctions imposed on Russia, mainly by NATO member countries, have significantly affected the export of so-called commodities, such as agri-food products, from Russia, but also from Ukraine. Plus, the sanctions on Russian oil and gas have caused an energy crisis in Europe.
 
In Canada, we are experiencing the collateral effects of the Russian-Ukrainian war through, among other things, the wheat prices, which have suddenly increased by 20%. Although Canada is one of the ten largest wheat producers in the world, along with Russia and Ukraine, wheat prices are set in the global marketplace.
 
The commodities most affected by this war are metals, agri-food products, oil and fuel. As Canada has access to many of these resources, Canadian exports for these goods have significantly increased.
 
Article:
Consumer Price Index, May 2022
---
Working From Home
The pandemic has normalized working from home in many industries, and because of it, employers must reinvent their hiring techniques to make vacant positions more attractive, especially in industries where working from home isn't an option.
 
For that reason, the transport industry is struggling to hire people who would help alleviate the already existing labour shortage. 
Articles:
Conclusion
Although we have faced several unforeseen events in 2022, our team always stays on top of all the latest news in order to offer efficient solutions that meet your specific needs.
 
At Synergie, we remain optimistic for the new year because we know that within the vast expertise of our team, we can overcome any challenges.
 
On behalf of the entire Synergie team, we wish you a happy new year!